When NextRadio announced an adoption milestone in October —  one-million downloads of the NextRadio app — we charted the adoption curve based on reported milestones in the TagStation blog. NextRadio is a consumer FM tuner for smartphones, available on select Sprint phones in which the FM receiving chip is activated. TagStation is the industry-facing information source which encourages radio stations to become NextRadio-enabled so listeners can receive the station on their phones.
Now TagStation has announced 2-million NextRadio app downloads, so it's back to the charts for us. NextRadio downloads jumped from 1.5-million in February, thanks in part to an organized and widespread radio ad campaign.
To match a new monthly pace of reporting in the TagStation blog, we have removed middle-month progress that was in the earlier chart, when TagStation updated metrics every two weeks. The result is a rough month-by-month curve, since September 2013, corresponding to blog posting dates.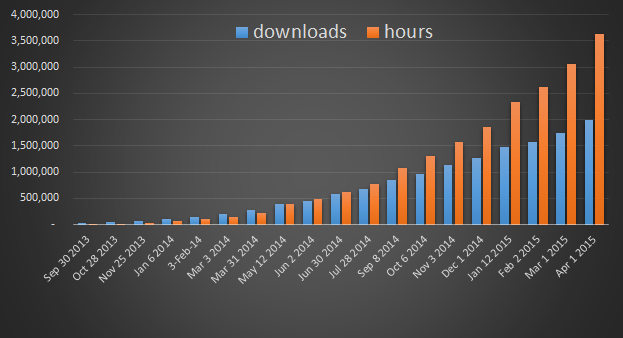 The curve of listening hours is steeper than the download growth. Since reaching 1-million downloads, the number of listening hours per download has grown from 1.4 to 1.8, a 29% gain.
TagStation also tracks the number of stations which have adopted the platform: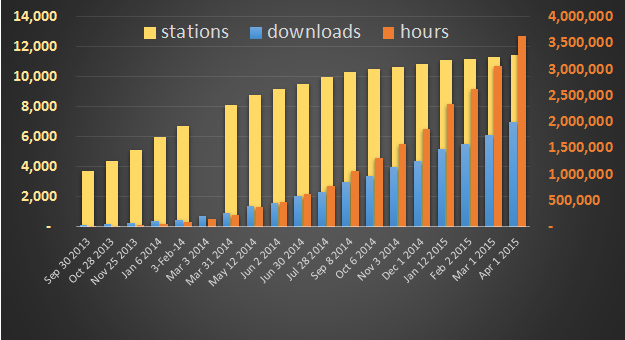 The growth curve of participating radio stations is nearly flat in recent months. In the two months since February's 1.5-million benchmark, and the start of a broad radio promotion of NextRadio, downloads have grown 27%, listening hours 38%, but participating radio stations just 3%.