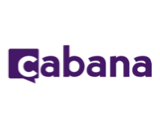 AdLarge's digital audio division, cabana, announced another show joining its roster. One Part Podcast is hosted by Jessica Murnane, who uses the show as a platform to help women to improve their lives. The weekly podcast features conversations with guests such as former boxing champion, author, and fellow podcaster Laila Ali.
cabana has been focusing much its growth on shows by and for women. "Jessica gets deep with her guests and isn't afraid to talk honestly about real issues that impact women," Ilwira Marciszek, vice president of digital strategy for AdLarge Media and cabana, said. "Her podcast is engaging, informative, and sparks conversations — a great environment for advertisers that want to be part of this dialogue."
"I chose cabana for my hosting and ad sales partner because they are shining a light on female talent. This is powerful for the growth of the podcast industry," Murnane said. "I'm so excited to be part of the cabana family."
Cabana kicked off 2018 with the debut of a podcast buying guide for advertisers.