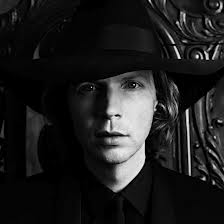 Not to trivialize business issues for musicians, but the "Spotify debate" rages on which increasing repetition. Some of the publicized outbursts against Spotify result from musicians being asked about it by journalists.
The latest high-profile musician to take a club to the music service's business model is Beck, who was granting an interview to an Argentinian publication during a tour of South America. "Streaming is inevitable," Beck stipulates, and regards the royalty payouts unsustainable. As with other musicians who have issued objections of streaming as a music-consumption model, Beck views Spotify in snapshot mode. He does not consider a level of global scaling across many platforms that might raise musician revenues to higher levels, despite acknowledging that streaming is moving into the scene unstoppably.
Interestingly, Beck is distressed by the audio quality of Spotify streams, and presumably most other platforms. It's not the first time we've heard that complaint, but audiophiles generally fight a losing battle in this regard. (Starting with similar complaints about CDs.) Access and convenience are core consumer values. When millions of people are satisfied with listening to compressed music through cheap earbuds attached to a phone, the audiophile's burden is heavy.