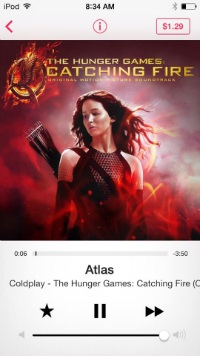 We noticed the new Hunger Games soundtrack album as a streaming playlist in iTunes Radio, which supported our repeated observation that "album release" no longer has much meaning.
In the years when radio was the only mass-market music discovery venue, and the only hitmaker, pre-release singles effectively promoted albums, sometimes weeks before album availability. Streaming puts a new slant on album promotion. We noted that in the cases of Justin Timberlake and Eminem, iTunes Radio streaming previews effectively released the albums in a viable listening format before the CD and album download were available. In both cases, those albums shot to the top spot in Apple's iTunes album-sales chart. More correlation (Billboard) of the strategy's effectiveness lies in the fact that the Timberlake product headlined the best album sales week of the year, and Eminem's spearheaded the second-best week.
Coincidentally, as we were listening to a Songza playlist, a track from the Hunger Games album popped in. That opened our eyes to the fact that the iTunes Radio promo is not an exclusive deal. And Rolling Stone notes that some of the artists included in the album compilation have (pre)-released tracks or snippets. It's natural that a multi-artist album would demonstrate a more ragged introduction than one band with verticalized management. But the overall point is that Internet radio, plus other leakage points, make album release dates increasingly meaningless lines in the sand when the tide is rolling in. (We love a good metaphor.) 
At this writing, the Hunger Games album is perched at the top of the iTunes pre-order chart, and is placed at #22 in the total album-sales list. The album's formal release date (which, again, is becoming more a marketing slogan than an actual availability milestone) is next Tuesday.