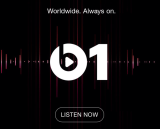 Beats 1 has added new artist-led shows to its programming roster. Major Lazer, Haim, and Eric Prydz are all joining Apple Music's radio project, with more artist hosts to be announced in the coming weeks.
Zane Lowe talked about the philosophy behind having performers participate behind the mic at Beats 1 in an interview with Entertainment Weekly. "I've spent so much time trying to elicit information from musicians," he said. "So we thought, 'What would happen if we convinced them, the artists, to invest in it and create their own platform? What road might that take us down?'"
One interesting result of tapping that much star power turned out to be availability. After all, a regular radio slot is a huge time commitment, and the initial wave of artist hosts are all active in the studio, touring, and working on other projects. Lowe explained that this restriction turned into the idea of having hosts for seasons, which is why this new wave is coming into the fold.
Lowe also teased a big announcement on Twitter last week, but that's slated to come on Friday. What could it be? The long-expected launch of additional channels, as our own Kurt Hanson predicted would happen, is a high likelihood. But you never know what Apple might have up its sleeves.