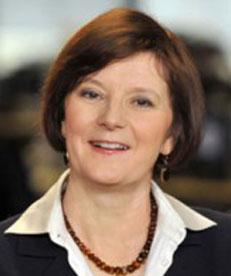 Helen Boaden is resigning from her post as BBC's director of radio. She is expected to step down in March 2017 after 34 years with the broadcaster. She will end leadership of the radio teams until Oct. 31, then will retain digital project myBBC until her official exit.
"With a new Charter to implement, Tony [Hall] needs a top team in for the long haul," Boaden said in a note to the staff. "By contrast I am at a stage when I want to put my energy, skills and experience into other things I care about."
Boaden is leaving at a critical juncture for the broadcaster. The BBC laid out an ambitious digital roadmap one year ago, but since has proposed some sweeping changes in structure. Digital and mobile appear to be a continued focus for the BBC, and Culture Secretary John Whittingdale has pushed for content to take center stage in the new charter.
The BBC is expected to seek a new director of radio, but for the immediate future her replacement is slated to be James Purnell, the current director of strategy and a former culture secretary when Tony Blair was the prime minister. This change puts Purnell, who now oversees radio and education for the BBC, in a position to be a top contender when director general Lord Tony Hall eventually steps down.