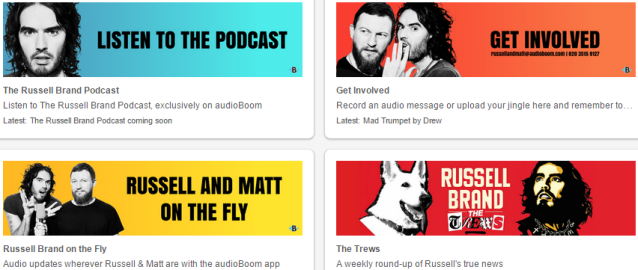 British comedian, actor, and activist Russell Brand is starting a twice-weekly comedy podcast exclusively on audioBoom. Ad-rep firm Adlarge, which already exclusively represents audioBoom's U.S. audience, will develop custom U.S. advertising opportunities in the new show.
Each The Russell Brand Podcast will be 45 minutes long, and the semi-weekly episodes will drop into audioBoom each Wednesday and Sunday, starting this week (February 25). In addition to the formal program, Brand will use audioBoom's mobile app to irregularly record and upload "thoughts on the fly." The app is a miniature production tool which encourages recording, editing, and uploading while mobile.
The podcasts will be repackaged into weekly hour-long shows and syndicated to audioBoom's broadcast partners. Also, a 10-minute highlight program will go to iTunes. Finally, an audio compilation of Brand's million-subscriber YouTube channel, The Trews, will land exclusively on audioBoom.
Russell Brand's celebrity voice, both lacerating and self-deprecating, brings a distinct new dimension to audioBoom's comedy catalog, and to its general lineup of sports, entertainment, and business programming. "I am ecstatic that audioBoom has managed to attract one of the world's most talented entertainers onto the platform," said CEO Robert Proctor. "This partnership will not only bring unique content to our platform and unique content to our users, but will also make us hugely attractive to the growing on-demand audio listeners around the world."