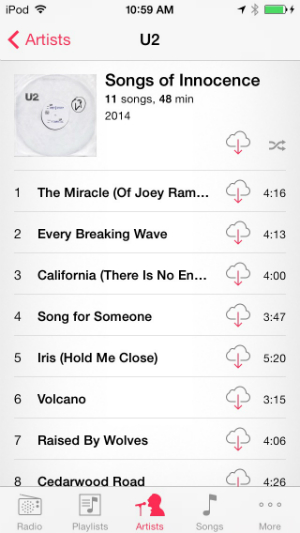 Four days after our initial coverage of Apple's forced distribution of U2's new album, the controversy continues to swirl. A good deal of media punditry has concluded that the marketing gambit, in which Apple put the band's new album, Songs of Innocence, into the music collections across the iOS mobile landscape, was an outright failure. (See here and here.)
Free music is generous, but pushed music without permission has been perceived as an intrusion. Apple is quietly dealing with the fallout, partly by putting up a page which facilitates deleting the unwanted album. The songs were actually placed in users' iCloud accounts, to be downloaded or not, but in cases where the account were set to auto-download (standard for people who synch their own content among devices), the album files ended up in phones and tablets.
U2's new release was also offered as a free stream in iTunes Radio. Beats Music, recently acquired by Apple, was not involved in the promotion.
For all the negative press hitting Apple (and the band), each can point to a unique accomplishment: Songs of Innocence has been consumed by 33-million people during this first week of the promotion, and that number will probably go up. That impressive reach makes the album the most successful first-week release in history.
But what do we mean by "consumed"? In this case it means either downloaded or streamed, and further blurs the already smudged definition of "album release," and even ownership. Other musicians with hit albums are bound to be offended by this metric, as baseball players might be offended by a home run champ who takes steroids. An album that is released in download and streaming formats, completely free of charge, and even pushed onto people's devices without their permission, probably should not brag too loudly.
On the other hand, why not? Reach is reach, no matter how it's accomplished. And if giving music away fits a band's strategy, then doing it assertively is just good business. If push marketing becomes standard, though, music risks becoming spam.
Two questions in play here — "What is a sale?" and "What is ownership?" — are enjoined by a new report indicating that U2 and Apple are working together on another venture: some kind of new music product that band-leader Bono says "will prove so irresistibly exciting to music fans that it will tempt them again into buying music." (That quote is from TIME, which broke the news with no details available).
A new music product has been a chimerical brass ring for the record industry, as consumers migrate at an accelerating pace to streaming — from ownership to access. It's rather a hopeful mirage for Apple, too, as the iTunes Music Store decreases in importance, iTunes Radio struggles for influence among many other services, and Beats Music remains a very expensive unproven acquisition.
In the meantime, lessons are learned. Apple: don't push. Users: check your cloud settings.