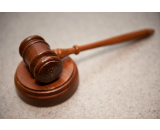 A Virginia magistrate recommended dismissing the lawsuit filed by VerStandig Broadcasting against SoundExchange. Magistrate Judge Joel Hoppe suggested the dismissal due to a lack of controversy between the two parties, according to Radio World.
VerStandig filed a suit against the royalty collector on claims that its use of geo-fencing should exempt it from needing to pay copyright royalties. the case hinges on a legal loophole from the pre-geofencing era, regulating the re-transmission of a broadcast signal in a stream. The 150-mile distance creates a standard radius of a broadcast signal, and presumably (in VerStandig's viewpoint) exempts a radio station from paying performance royalties to labels and artists if the station geo-fences the stream to remain within that radius.
Recent court documents revealed that VerStandig has not yet invested in that geo-fencing capability, because it is waiting for confirmation that it will in fact exempt it from the royalty payments.
The case is interesting to all broadcasters who stream their signals, because streaming adds royalty cost to the station, which does not exist on the terrestrial side. American radio has historically (and almost uniquely in the weorld) been exempted from tracking and paying those royalties.
The district court can opt to accept or reject Hoppe's recommendation for dismissal. SoundExchange also previously attempted to dismiss the suit on claims that the court didn't have jurisdiction over the issue.