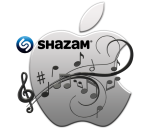 As hinted in recent weeks, the European Commission has approved Apple's acquisition of audio identification tool Shazam. The purchase was first announced back in December 2017, but several European leaders pushed for a full investigation to ensure that the deal would not create issues of competition by giving Apple an edge in customer data or access compared with its rivals.
"Access to Shazam's data would not materially increase Apple's ability to target music enthusiasts and any conduct aimed at making customers switch would only have a negligible impact," the commission concluded in a statement.
Europe has often been strict in its dealings with American tech companies. This isn't Apple's first time to tangle with the bloc's government; it was ordered to pay back taxes of 13 billion euros (about $15.1 billion) to Ireland in 2016, a ruling that both the company and the Irish government are appealing.