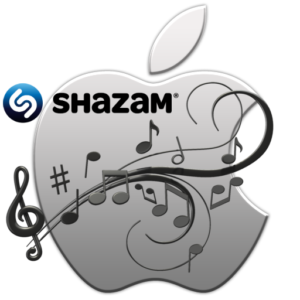 UPDATE: This article was originally posted as a solid rumor. This morning Apple confirmed that it will acquire Shazam.
Over the weekend TechCrunch broke news from undisclosed sources in Apple that the tech giant was close to acquiring market-leading music-ID platform Shazam. If the takeover happens, Apple could integrate Shazam's music intelligence into the Apple Music subscription service, and possibly deprive Spotify of its Shazam linkage.
Shazam's usage footprint is based on over one-billion app downloads. Users in 190 countries activate Shazam 20-million times a day to identify music. The results are compiled in Shazam charts, which represent a unique lens through which to view song popularity. (See Shazam's 2017 hit list.) Integrations with smart TVs and other consumer devices extend Shazam's reach.
Though the company was valued at just over $1-billion after its last funding round in 2015, TechCrunch sources say that an acquisition cost would be substantially lower — in the range of $400-million, a 60% haircut.
While Shazam's brand is synonymous with song identification to many people, the company has competition from at least one other major app, and from music-ID technology increasingly embedded in the consumer digital flow. SoundHound is a long-standing rival to Shazam; it has been downloaded over 300-million times to Android users, and another 300-million to Apple devices, according to both app stores. SoundHound offers to identify songs when you hum them, and also features hands-free voice commands.
A more insidious competitive threat to both stand-alone brands is music identification that is integrated in other digital activities, so it doesn't require opening and activating an app. Napster (formerly Rhapsody) has a music-ID layer (called Song Match)built into its on-demand service — quite convenient for identifying a song playing in the outside world, and quickly adding it to a Napster playlist.
Google drills even deeper into the digital lifestyle of Android users by adding music identification to Google Assistant — the voice-controlled smart assistant which powers google Home devices, and also recent versions of Android in phones. In our testing it is spectacularly streamlined — much faster than opening Shazam and hitting the ID button. Google then offers to add the song to Google Play Music, that company's on-demand service, illustrating how inconveniently silo'd these ecosystems can be.
According to Recode, "Shazam's music-recognition technology used to be novel, but now it's relatively easy for anyone to replicate that product."
Shazam has historically taken the role of Switzerland, standing in the midst of Spotify, Napster, Apple Music and others, offering to funnel ID'd songs to the user's preferred listening platform. That feature is a powerful connector between radio and on-demand listening, enabling a user to easily identify a radio song and, in effect, lift it out of radio and into Spotify or another service. (Worth noting that iHeartRadio All Access provides that exact feature on a single platform, and it works splendidly.)
If As Apple acquires Shazam, it is reasonable to expect that the link-up with non-Apple on-demand services would be cut. In that scenario, the world's best known music-ID and music-tagging system would funnel only to Apple Music, just like Napster's Song Match and Google Assistant's role in Google Play Music. That would be a powerful Apple Music advantage, though it is unknown how much traffic Spotify gets from Shazam now. That scenario would also leave SoundHound as the dominant indie brand for music identification.