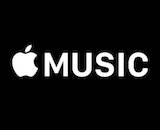 Apple has posted its Q2 2017 results. Quarterly revenue for the tech giant totaled $52.9 billion, up from $50.6 billion in the year-ago period. Apple's net income for Q2 was nearly $11.03 billion, or $2.10 per diluted share, up from about $10.52 billion, or $1.90 per diluted share, in the same quarter of 2016.
Apple does not break out any of the financial details for its streaming music platform, but that product is included in its Services arm along with revenue from any of its digital content. Services generated a dramatic lift in quarterly revenue of $7.04 billion in the period, compared with $5.99 billion in Q2 2016.
It's tough to make a direct extrapolation as to how much of that performance is due to Apple Music. An RBC Capital Markets analyst estimated in March that the streaming platform was only providing 10% of the Services revenue. Apple's Q2 press release did not offer any further data about results for Apple Music, either in terms of financial contribution or subscriber growth.