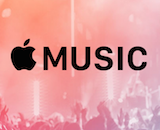 Apple Music has entered into a deal with an Australian telecom company to offer a 12-month free trial of the streaming service as part of a mobile bundle. Customers who sign up for Telstra's one- or two-year Go Mobile Plan for iPhones will get the free year of the subscription service.
For many months, we've been watching this trend of streaming platforms tying up with telecom businesses. It still seems to be a key component of the business plans for streaming entertainment; to expand their audience base with the aim of converting them to paying customers. It's a bit of a surprise to see Apple taking this route, especially one that focuses on its own phones. The basic Music and iTunes apps are already a part of iOS, so the existing potential audience is already quite large.
Apple Music has also signed with AMRA, the digital collections society owned by Kobalt. The parties have entered into a global license agreement covering 100 territories. AMRA touts its ability to monetize markets that have not produced digital revenue thanks to its centralized collections process. The Apple deal excludes Canada and the U.S.
One final news item for Apple Music today, this one the haziest of the three. The platform is already experimenting with video for its artists, but it seems that the Beats 1 radio show may also add a visual angle. The Beats 1 Tumblr shared a clip of Dr. Dre in the radio studio talking about his new (and likely last) album project in a style that might be the new normal for that property. Sources told Hits Daily Double that the video broadcasts would likely have a "talk-show vibe… presumably with tosses to artist videos, live performances, and other segments." There's no saying this clip will be more than a chance for social shares around major music news, but we'll be keeping an eye on further developments in that vein.