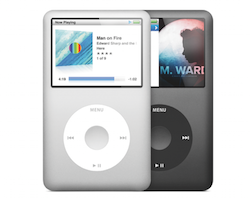 Apple didn't share any news about its streaming service at yesterday's product reveal, but the music updates that did come out of the major tech event still serve as a sign of the trends to look for both on- and offline.
U2 was the musical guest at the event, and the band closed the performance by announcing that its new album would be available for free to all iTunes customers. "Songs of Innocence" will also be available on iTunes Radio and Beats Music, and it'll be an Apple exclusive through October. Quartz ran an article summing up how this move reflects that listeners aren't interested in buying traditional albums and that radically different models of music ownership are becoming the norm.
The other big development was a silent change that didn't take place on stage: Apple discontinued the classic iPod. The company is still selling the iPod Touch, iPod Nano, and iPod Shuffle, but the original MP3 player model is no more. When it launched back in 2001, the iPod showed that Apple would be making revolutionary changes to how people listen to and buy music. Its disappearance from the product roster seems to be a recognition that the old practice of purchasing and downloading files is also on the way out. The remaining touchscreen iPods support the download of streaming service apps. The devices have little enough storage — the Touch is largest and only goes as high as 64 GB — that they don't seem intended to hold an entire music library. Discontinuing the original iPod seems like another acknowledgement that the MP3 music ownership model is in decline, with smartphones replacing the single-use device for listening on the go.