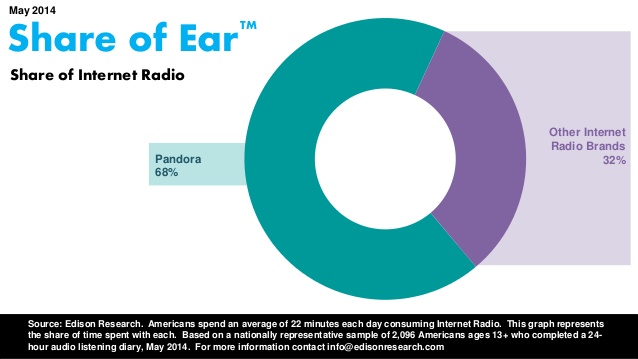 In a special presentation at RAIN Summit Indy on Tuesday, Larry Rosin, President of Edison Research, broke out new statistics from the "Share of Ear" study conducted earlier this year, and initially summarized in June.
Attempting to quantify how American adults listened to audio from all sources, Share of Ear attributed 11.6% of listening to Internet Radio — in the study context, that meant both non-interactive services like Pandora, and interactive services like Spotify. In the RAIN Summit presentation, Larry Rosin unpacked that metric to illuminate more detailed findings.
Pandora accounted for 68% percent of Internet Radio listening, with all the other noted platforms and services crowded into the remaining 32%.
Demographic results were also broken out. Looking at just two audio sources — AM/FM Radio and Internet Radio — Edison discovered Pandora's share of Internet Radio listening growing dramatically as the sample audience skewed younger. The same was true for Internet Radio as a whole, measured against AM/FM.
So, in the 18-24 cohort, Internet Radio accrued 29% of listening, driving AM/FM down to 71%. And through that lens, Pandora claimed 20% of Internet Radio. In the entire sample (13+ Americans), AM/FM claimed about 85% of listening, driving Internet Radio down to about 15% (with Pandora getting about 10% of that share).