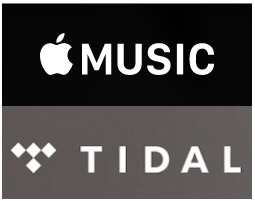 Apple has entered into discussions with Tidal about a potential acquisition. The Wall Street Journal reported that the two parties have been in talks, citing unnamed people familiar with the proceedings. On the surface, this seems like a reasonable pairing. Both Tidal and Apple Music have been focused on creating artist-friendly services, each securing some coups in exclusive releases over the past month. But digging a little deeper, Tidal's recent accomplishments might cast doubt on the tie-up.
After so long as the butt of the industry joke, Tidal appears to have righted the ship and its course looks clear. This isn't the first time it has been the subject of takeover rumors, but now it has a few very successful releases under its belt. It has pushed into original video series and put on concerts and is positioning itself as a major lifestyle and entertainment hub in the making.
For Apple Music, on the other hand, a Tidal buyout could actually be a reach. The streaming platform's first year on the market was strong, netting 15 million paying subscribers. But it only came into being on the back of another acquisition (Apple's very expensive buy of Beats Music). And Apple wasn't without its own issues, such as a bloated user interface that took a year to address and its own occasional bad PR from leadership.
Most tellingly, The New York Times' tech writer Ben Sisario has said that this deal is a no-go. Sisario has some of the best sourcing in the business, so if his "two highly placed sources" are saying the talks will not result in a merger, then that's a strong sign that things fizzled.
Two highly placed sources tell me that Apple is not buying Tidal.

— Ben Sisario (@sisario) July 1, 2016
The fact that Tidal/Apple rumor talks so thoroughly dominated the headlines today is a sign that Tidal has officially arrived as a major player in the music industry. It will still have detractors and critics (we cop to being among them at the start!), but Tidal has made massive strides to pull together all that star power into a plan.
Consolidation in the field does seem likely; Pandora was able to scoop up Rdio following its bankruptcy, but that still leaves several players jockeying for position. Yes, Apple Music and others such as Google/YouTube or Amazon Prime Music have the backing of a massive tech company, but they also have their own sets of challenges. Given a little more time on its current trajectory, Tidal could turn out to be one of the last ones standing.