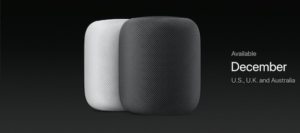 Announced in June, projected to launch in December, launch delayed in November — Apple's HomePod smart speaker is now on the calendar to hit the market on February 9, with pre-orders starting this Friday.
HomePod's original launch was canceled soon after Sonos released the Sonos smart speaker powered by Alexa, in effect a hi-fidelity version of the Amazon Echo line. Price for the Sonos One ranges from $150-200, making Apple's $350 HomePod an expensive choice, even with the high-end audio Apple promised. After all, Sonos is no slouch at audio.
The same questionable value proposition exists now, as HomePod approaches the market. Question marks surrounding the launch won't be answered until reviews are in. But here are the two big questions as Apple cannonballs into the smart speaker pool:
Audio
What will HomePod sound like? Apple smartly targeted HiFi as a differentiator in a market filled with small, inexpensive home devices for which audio was only one of many use cases. Sonos grabbed that differentiation first, but there's room for another outstanding performer. In Apple's case, the sound has to be at least $150 better than Sonos … although there are other reasons for people to choose HomePod.
One of those reasons is that audio is the main focus. Here at RAIN, audio is always the focus, so we think of Alexa and Google Assistant devices as audio technology. But non-musical audio (weather, news, reminders, alarms) play a big part in usage, as well as controlling lights and thermostats. HomePod is about music. Arguably Sonos is, too, but Apple does have an opportunity to establish HomePod as the smart speakers for audiophiles.
Brains
One of the biggest question marks is how well Siri will perform compared to Alexa and Assistant. Helpfully to Apple, the bar isn't very high … yet. The Amazon and Google products are mystifyingly dumb in some ways, both natively and because some audio publishers don't build great interactive tools. Dig in a little below the surface, and you get a lot of, "Sorry, I don't know how to do that."
The question hangs in the air as Apple withdrew the initial launch because the product wasn't ready. Siri takes her share of abuse for lack of language ability, and if a smarter Siri appears in HomePod, the delay will be justified. And it's key to remember that Siri has 375-million active users according to Apple (as of last June).
Some tech pundits have low expectations, though. "The focus here continues to be on music and sound quality, rather than the speaker's intelligence, which is the core focus of many competitors' products. The speaker will still have an always-on voice assistant, but Apple's implementation of Siri here will be more limited than what's present on other devices," according to The Verge.
Like Amazon and Google, HomePod will be fluent in the company's native music service, Apple Music. All three brands are designed to serve their own ecosystems, bring in new users, and retain existing ones. That is the underlying business model, regardless of each company's core competency. The question with HomePod is whether Spotify, Pandora, Amazon Music, iHeartRadio Premium, TuneIn, and many other platforms will be served. It's an interesting question which points to ecosystem conflict. Spotify is an ecosystem too, with invested users, which forces Amazon and Google to service that base. If Apple super-specializes the music-base HomePod for Apple Music, it will place a bet on limiting its addressable market to Apple loyalists who adopted Apple Music as an ecosystem feature.
Bigger Picture
Apple is 3-4 years late to the smart speaker party, depending on where you stick a pin in the timeline. That's a serious (and arguably indefensible) disadvantage. But large companies with tidal consumer sway have recovered from worse. Microsoft failed to understand the entire internet for several crucial years.
It might not be necessary for Apple to hit a home run with the HomePod launch. But it's worth noting that smart speaker adoption is growing at the pace of smartphones a decade ago (according to NPR/Edison research) … and Apple started the smartphone revolution. The smartphone market settled into a duopoly (iOS/Android), as many tech and media categories do (Windows/macOS, Netflix/Prime, Spotify/Pandora). Right now, Amazon Alexa and Google Assistant are the duopoly candidates. Of course, that could change. (We're looking at you, BlackBerry.)
---
SAVE THE DATE