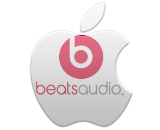 UPDATE: Apple's leadership clarified yesterday's reports of job cuts at Beats. "We have extended job offers to every Beats employee," spokesman Tom Neumayr told Billboard. "Because of some overlap in our operations, some offers are for a limited period and we'll work hard during this time to find as many of these Beats employees as we can another permanent job within Apple." Operations departments still seem at the most risk, but this is much less dire that the drastic cuts initially hinted at within the companies. 
Original post:
As part of its acquisition, Apple has let go of some Beats employees who were in redundant roles. Reports suggested that Beats Electronics would lose 200 jobs, although the impact on the streaming side of the business, Beats Music, was not clear.
Hypebot reported that most of the cuts were in finance and human resources, where Apple is already working with a full staff. According to sources, the development and creative staff from Beats will stay and work at their current offices in Santa Monica or move to Apple's Cupertino bases. Beats' hardware team may also make the switch to Cupertino.
At the upper echelons, Jimmy Iovine and Dr. Dre are known to be joining Apple's ranks, but the jury's still out on the other high-profile leaders. An unnamed source has told some publications that chief creative office Trent Reznor, former frontman of Nine Inch Nails, and Beats Music CEO Ian Rogers would also make the transition, but there has been no official announcement on that front.