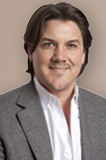 After 17 years at Warner Music Group, Stephen Bryan has been appointed the new senior vice president of business development and strategy for SoundCloud. "I've always felt a deep passion to navigate this incredible transition to digital platforms," he said. "I think that change will accelerate in the near future, and a company like SoundCloud enables me to continue that."
Bryan rode the wave of music's big transition to digital platforms at WMG, rising to the role of executive vice president of digital strategy and business development.
Earlier this month we reported that SoundCloud was readying major-label deals to carry that music on SoundCloud's crowdsourced platform without hassling with takedown notices, which have beleaguered the service. Bryan's role might accelerate those negotiations, which could go a long way to accomplishing Soundcloud's stated goal of being "The YouTube of audio."
Soundcloud has worked to increase its footprint in the crowded streaming-music space, growing its listenership impressively to over 250-million monthly active listeners. Doing that has required product changes that have, to some extent, alienated its base of DIY users, according to anecdotal observations. Those members pay the bills in SoundCloud's ad-free service, with monthly subscriptions for storage space.
So Stephan Bryan is entering a company that is squeezed by the intersection of three mandates: Keep labels happy with SoundCloud's growing influence, continue growing the audience of listeners, and keep DIY uploaders engaged as subscribers.