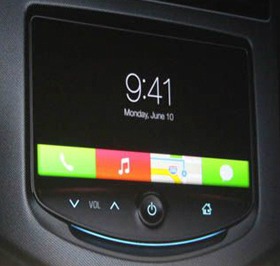 Apple and a trio of car companies used the Geneva International Motor Show to announce the roll-out of CarPlay, formerly called iOS in the Car. CarPlay is an in-car system which enables the driver to control an iPhone (version 5, running iOS 7) on the car's dashboard, and via Siri voice control. CarPlay will hit the road later this year in selected Ferrari, Mercedes-Benz, and Volvo models. Over a dozen other automakers will include CarPlay in some models later on, according to Apple's press release.
The intent of CarPlay is to solve the safety and usability problems of listening to music (and using Apple's navigation system) through a small handheld device while driving. The platform throws the controls onto a larger dashboard screen. A button on the steering wheel activates Siri voice control, which can be used to turn on music, start navigation, or manage incoming phone calls.
Naturally, iTunes Radio works in CarPlay. The system does not provide an open platform to activate all music and audio apps installed in the phone — Apple's announcements says this: "CarPlay also supports select third-party audio apps including Spotify and iHeartRadio, so you can listen to your favorite radio services or sports broadcast apps while driving." Our query to Apple regarding CarPlay's app strategy has not yet been returned. We note the absence of Pandora in the brief list of supported apps. While a strategy of favoring Apple's own Internet radio service is understandable, excluding the market-leading Pandora could surprise and frustrate users who listen to Pandora on their phones outside of the car.
Apple's CarPlay is the competitive counterpoint to Google's Open Automotive Alliance, which was announced in January. Google's car-development program aims to build the Android operating system directly into the car, contrasting with Apple's system of effectively plugging an iPhone into the car's dashboard. While CarPlay results in an iOS-friendly vehicle, Google's venture will result in something closer to an Android car.