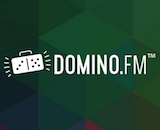 The year kicked off with a flurry of new companies trying to carve their niche in the music business. And the year is ending with many of those companies closing their doors. The latest one to shut down is Domino.fm. The app sought to unite music discovery with music journalism, collecting both tunes and articles in a single location.
According to the farewell email from the team, licensing issues and other industry problems were the main reasons for the shutdown. Although Domino.fm is going away, the creators emphasized in their farewell email that it's just a temporary departure. "We just need time to regroup and take a step back from the life of digital music tech," they wrote.
Other closures this year included BOOMiO, Tapely, This Is My Jam, and Bop.fm.