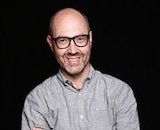 Amazon Music is continuing its steamrolling push into the modern music landscape. The company has hired Nathan Brackett as its new head of editorial. Brackett was most recently executive editor for Rolling Stone, and he'd been with the music magazine since 1996.
The tech giant announced its new streaming music subscriptions in October. Amazon Music Unlimited has three tiers to its on-demand service, with discounted prices for Prime members and Echo home speaker owners. It also added a family plan and began global expansion this month.
Amazon isn't the first streaming company to seek talent from traditional media outlets. BBC's Zane Lowe was a huge get for Apple and its Beats 1 radio project. Spotify also dipped into the BBC hiring pool when it pulled away George Ergatoudis to head its UK content programming.