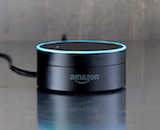 Amazon Alexa is getting more options for actions that can be incorporated into the voice AI's routines. This feature lets users assemble a set of actions from the smart speaker triggered by a single voice command. Initially limited to news, weather, traffic, and smart home skills, routines can now incorporate music, podcast, and radio content.
This update means the potential for smart speaker owners to link more audio into their habits. For instance, saying "Alexa, good morning" could be set to offer the weather forecast and then start playing a particular playlist chosen for kicking off the day.
Any of the music platforms currently supported on Alexa can be used for routines. That includes Amazon Music, Spotify, Pandora, iHeartRadio, Saavn, Deezer, and TuneIn.
An Amazon exec recently spoke with Billboard about how smart speakers have driven up music subscriber numbers for the tech company. Amazon now has "tens of millions" of paying music customers.