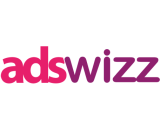 AdsWizz is announcing today that its digital audio platforms received three awards in the past week — two from DRUM Digital Advertising Awards and one from Digiday Awards. Both award galas were held last week in New York.
The DRUM awarded AdsWizz with Best Overall Technology for Programmatic Trading, and this is the third time AdsWizz has collected the award. Worth emphasizing that the awards are not specifically for audio; runners-up in this category were Xaxis, Smart AdServer, 33Across, Index Exchange, SpotX, and Cognitiv.  "They had already cornered the audio market and pushed innovation to the top of their agenda," the Drum commented in bestowing the award. "They have also proven success for advertisers, users and media owners and as audio grows in popularity, their full suite offering and innovative formats will stand out."
AdsWizz also won the DRUM Most Effective Programmatic Partnership award with Spark Foundry and AI Music — the combined on a personalized audio ad campaign for Cox Media which ran in Pandora during Q1 this year. The ads adjusted background music to match the listener's playlist, reportedly lifting campaign effectiveness.
In the Digiday Awards, AdsWizz won for Best Monetization Platform for Publishers. Again, this was not an audio tech showcase — AdsWizz competed with other segments of the digital advertising ecosystem.