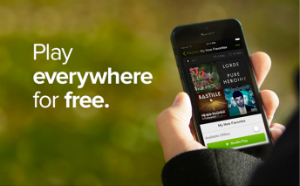 At RAIN Summit NYC in February, Gary Liu, Global Head of Industry Development at Spotify, suggested a novel advertising strategy during a panel session. Liu speculated that music-service listeners might be willing to play ads on demand, in order to clear out advertising for an extended stretch of uninterrupted music listening. There were some chuckles in the audience over that, but a report in AdAge indicates that Spotify will pitch a similar idea to advertisers at this week's Cannes Lions festival.
(The next RAIN Summit is on September 9! CLICK HERE for info.)
As described in AdAge, Spotify's idea is to charge a premium rate for a video ad which eliminates other advertising during an entire Spotify playlist. Value-add details, such as playlist length, and whether the ad unit would be available for all playlists or selected ones, are not disclosed by Jeff Levick, ad chief at Spotify. (Levick was previously global head of advertising at AOL.)
For users, the proposition would be similar to Gary Liu's idea: Watch one ad now in exchange for ad-free listening. The concept would have to be marketed to listeners, in order to drive traffic to the special video ads. If the audience isn't aware of the bargain and funneled into watching the videos, the premium-sold ads would not necessarily carry more inherent value than normal "interstitials" — video and audio ads that interrupt playlists like radio ads.
Radio-like interstitials are fairly common in non-interactive, ad-supported listening platforms. Pandora offers a variety of formats for rich media creatives that take over part of, or all of, the audience experience during listening. (We have documented several of these in this adStream series.) Pandora competitor iTunesRadio does the same thing.
Spotify's reported pitch will apply to the mobile app. Spotify introduced ad-supported mobile listening in December. In our view, the ad-swap idea is perfectly viable for the desktop experience also, at least from the user's perspective, where the bargain is the same regardless of platform.
Spotify recently announced reaching a benchmark of 10-million paying subscribers, who receive a totally ad-free experience. Another 40-million active users do not pay a monthly rate, and get commercials mixed in with music. Across all ad-supported music services, the "spot load" (number of commercial minutes per hour) is generally lower than in AM/FM radio.