Podcasting is a surging content category in online audio, but still off the mainstream path compared with Internet radio and music-service giants and their multi-billion-dollar valuations. Aggregators and producers such as Podcast One and Midroll Media are leveraging new platforms to raise awareness, and revenue, of online-only talk programs. Out on the fringe, some podcast creators are seeking funding and visibility on crowdfunding platforms.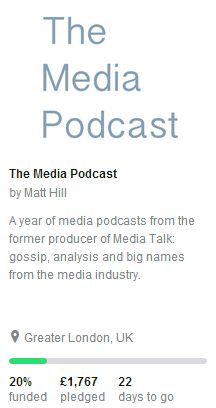 James Cridland, frequent contributor to RAIN News and a Radio Futurologist in the U.K. brought one Kickstarter campaign to our attention — The Media Podcast, which is hoping to raise 9,000 British pounds (about $15,000) by July 11. Twenty percent of the goal has been reached.
Knowing about The Media Podcast project inspired us to survey crowdfunding platforms to observe how podcast creators are using them, and to what extent they are succeeding.
A range
We found a range from basement projects (literally: Basement Nerd Network) to known programs seeking five-digit pledges (Radio Diaries asking for $40,000). The Radio Diaries project on Kickstarter offers an episode of the program via Soundcloud — a common way to crowd-market podcasts, as opposed to the sometimes elaborately produced videos that advertise other projects such as new inventions. In a fun angle, Radio Diaries offers vintage transistor radios to pledges of a certain amount. Radio Diaries is a broadcast/podcast crossover (public radio), and the only one we found in this review.
Tales of a Red Clay Rambler, also on Kickstarter, is hoping to fund its third season of interviewing creative people around the world. the funding requirement is relatively modest: a $7,500 goal has raised $4,370 with a few weeks before the campaign deadline. (According to Kickstarter rules, the entire funding goal must be reached or exceeded within the campaign's time frame, or all pledges will be void.)
From concept to equipment
Some podcasts marketed to the crowd pitch the show's concept, as with this summary by State X State: "A podcast exploring the country for things uniting these great states and making each one stand out." Others hope to fill a specific cost need, and we found several please to help with the expense of equipment upgrades. Watching these campaigns illuminates how granular crowdfunding can be, and how diverse podcasting is. One program, which focuses on pro wrestling in the Pacific Northwest, is seeking $525 for new microphones.
Some equipment pitches are more brief, and costly. From the Jerks podcast on Indiegogo (a Kickstarter competitor), the message is: "We need more gear!" The ask is $2,500.
Feel-good funding
When the podcasting business is merged with a non-profit cause anyone can get behind, crowdfunding can soar. At least, that's what Podcasting for Cancer discovered, when it exceeded its $5,000 goal by 100%, raising $10,220 last fall on Indiegogo.
Another feel-good campaign is 80% toward its $5,000 goal: Podcasting Puerto Rico. This project was started by a high school Spanish class, which intends to travel to Puerto Rico as a cultural learning project if they meet the goal. It's easy to imagine a network of parents spreading the word for that one.