adStream is an ongoing journal of news and observations in streaming audio advertising.
---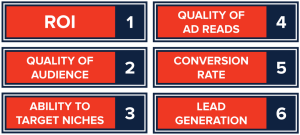 Podcast ad network Midroll Media released results of an advertiser survey that tested sentiment about marketing in the category generally, and queried respondents about how they value the opportunity. The survey evangelizes podcasts, and Midroll's advertising opportunities, to potential advertisers, while at the same time offering an interesting glimpse into buyer reaction to campaign experiences.
Overall, Midroll elicited strongly positive responses to podcast advertising generally: over 91% of advertisers said that podcasts provide good marketing value. One advertiser noted, "Hitting enthusiastic audiences is pretty rare, and podcasts provide that." (At RAIN Summit West in April, participants in the On Demand Is In Demand panel reported that some podcast listeners socially brag about acting on marketing messages in their favorite podcasts, as a way of supporting their favorite programs and hosts.)
A breakout of why buyers value podcast marketing provides more context. Midroll's survey revealed that ROI was the main reason for buying podcast ads. That makes sense, insofar as so much of podcast marketing is direct-response, where return on investment can be directly measured. "Quality of Audience" was the second most-noted value, followed by niche targeting — many podcasts are specific either to a topic, with a built-in endemic audience, or to a listener segment that is traditionally associated with a category like comedy.
The ROI element is highlighted in an accompanying case study published by Midroll Media, documenting how Fracture (a consumer service that prints photos on glass) approached the podcast market and refined its campaign tracking.
"Quality of Ad Reads" was another value cited by survey respondents, referring to host-read (and often host-riffed) ad copy that can run long, be highly personalized, and leverage trust that has been established with the audience. CMO Herb Jones told Midroll that he improved tracking intelligence by implementing a coupon code for each podcast featuring Fracture ads. A second step was to query consumers who bought from Fracture with one question: How did they hear about the service? Podcasting scored high in that simple survey, according to Jones.
Midroll wanted to know how podcast marketing compares to display advertising, and 65% of respondents said podcasts matched or exceeded the results of display ads.
Midroll is a podcast ad network representing a portfolio of 200 shows, some of them comedy programs like The Cracked Podcast and WTF with Marc Maron, others more serious like the Vergecast technology program.