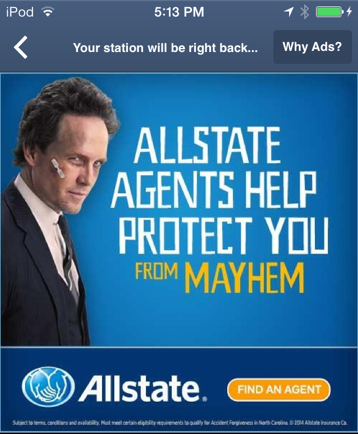 As streaming audio advertising gradually becomes more personalized to the listener, localized ads increasingly appear. Localized ads can present different levels of precision. GPS, wireless towers, and WiFi hotspots can pinpoint a listeners' exact location, and automated real-time buying platforms allow advertisers to beam messages to individuals who are close to showrooms and stores.
More broadly, a lower-tech solution — registration data — gives audio publishers a way to sell inventory on a regional basis, so listeners in a state or city hear streaming commercials localized at that level.
In our recent ad-stalking, we wanted to anecdotally track how much city-localized advertising was delivered by Pandora in a 90-minute listening session. We chose Pandora because of its well-publicized build-out of local ad-selling resources. We used an account registered in Raleigh-Durham, North Carolina, familiarly known as the "Triangle" region (with Chapel Hill being the third point). In a listening stint across Blues, Celtic, and Alt-rock music, we heard audio commercials (accompanied by banners and, in one case, a video) from:
| | |
| --- | --- |
| ADVERTISER | LOCALIZED? |
| Allstate | YES |
| Jeep | YES |
| Carolina Basketball | YES |
| IBM Cloud (video) | NO |
| BMW | YES |
| Erie Insurance | YES (on landing page only) |
| Jaguar | YES |
| Allstate (again) | YES |
| Sun Trust Bank | NO |
| IBM Cloud (again) | NO |
| Honda | YES |
| Audible.com | NO |
Localized ads ruled in this test, targeting the listener as a Triangle resident in two-thirds of the ads (8 of 12). Localization persisted when we clicked through to landing pages, which were customized to shopping locally.
We noticed that the audio localization seemed to be accomplished via voice-over insertion, where Allstate, for example, used "Caught in Triangle traffic" as an addition to generic copy. In that and other examples, the execution was very good — you can't tell whether the localization is edited in or not.