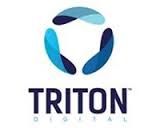 Triton Digital released the latest edition of its U.S. Podcast Report, an ongoing ranker which covers a rolling view of 4-week reporting periods. This one is for August 3 through August 30.

Stability reigns in this report, as we noted previously. but, one startling newcomer is AdLarge/cabana, which joined the cohort of Triton-measured podcast networks, landing at #7 in the Average Weekly Downloads list, and #6 in the Average Weekly Users list. that placement puts the company above NBC News, WarnerMedia, and FOX News Podcasts, along with others.
AdLarge is the parent audio ad representation company to cabana, which is the digital audio division — mostly podcasting. Cabana's show page lists 86 podcasts. The outfit's headliner show is Crime Junkie, hosted by podlebrity Ashley Flowers.
On both Triton network lists (Downloads and Users), the spots above AdLarge/cabana are unchanged in ranking from  the previous report, and the rest of the 15-spot list is either unchanging or shows movement downward by one spot (to accommodate AdLarge/cabana ) — except for a single -2 ranking.
AdLarge/cabana also invades the Top 100 Podcasts lists. Crime Junkie is #3 for both Downloads and Users. Another show, Park Predators, appears on both lists as well.
.