Triton Digital has released its U.S. Podcast Report, an every-four-week rolling weekly average of downloads and listeners. This report covers the July 6 through August 2 period.
Most remarkable is the stability of this report compared to the previous one. And we noticed the same thing in our previous coverage. 
Looking at the top 15 podcast networks ranked by weekly downloads, the lineup is  exactly the same as the previous report, except numbers 12/13 (Salem Communications and Beasley media Group), and 13/14 (focus on the Family and WaitWhat), switched places. 
Among the top five podcast networks, comprising the only networks with over 10-million average weekly listeners, total audience size was 122.7-million average weekly listeners, compared to 121.9-million in the previous period — a difference of 810,000, or six tenths of a percent.
Only one network newly entered the Top 15 cohort in the last three reports: WarnerMedia, which debuted two months ago (using "months" as a handy term for "four week periods"), and has remained steadily in the #8 slot.
The Triton report lists top 100 shows by audience, and relists them by downloads. NPR owns 10 of the top 20 by audience, and 11 of the top 20 by downloads.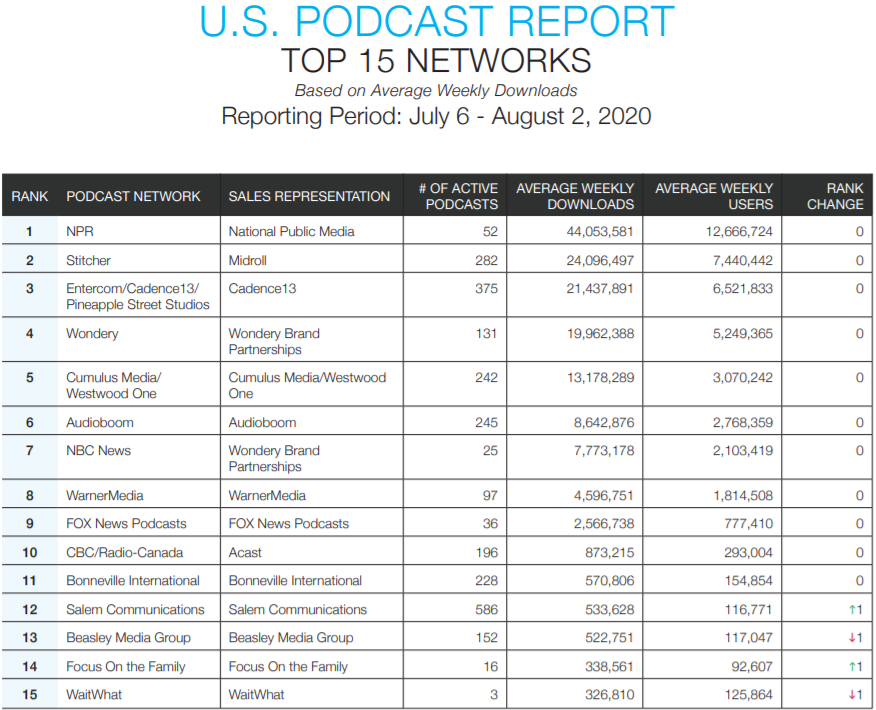 .