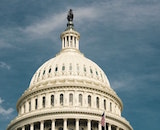 The Music Modernization Act and its proposed changes to mechanical royalties have arrived in the House of Representatives. The bill was introduced on Tuesday and is scheduled for mark-up today. It has bipartisan support as well as backing from several prominent organizations in the music industry, and is expected to pass in the House.
This version of the Music Modernization Act includes elements of four different bills that have been in the works for months, and in some cases years. It includes legislation that was also called the Music Modernization Act, which would create a body to collect and distribute mechanical royalties as well as introducing some protections for streaming services.
It also includes the CLASSICS Act to establish royalty payments for songs recorded prior to the creation of federal copyright laws and the AMP Act to provide protections to producers and engineers. Finally, it includes a provision from the Fair Play Fair Pay Act that would impact how digital companies' rates for using sound recordings are set by the Copyright Royalty Board.