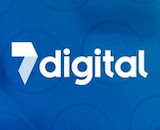 B2B digital music company 7digital has appointed Julia Hubbard as its chief financial officer. She will assume the responsibilities from David Holmwood, who has been the business' acting CFO since June 2018. Hubbard joins the music operation from Amino Technologies, where she also held the CFO post. She has also worked at CSC Media Group, Mowlem, and Lastminute.com.
"We are thrilled to welcome Julia to 7digital with her impressive track record in developing technology markets," 7digital CEO Simon Cole said. "She inherits a completely re-structured finance team. The credit for that and for re-organising our financial systems rests with David. I wish him the very best as he returns to a more pluralist life as an Interim CFO."
7digital has seen some big changes of late, including the departure of its Deputy CEO Pete Downton. The company also split with Juke, the German music service 7digital was tied to following its acquisition of 24-7, Juke's parent company, from MediaMarktSaturn.