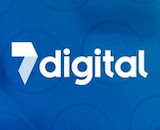 Pete Downton has exited his role as deputy CEO at B2B digital audio services platform 7digital. He joined the company as chief commercial officer in 2014, and has past experience at Warner Music Group.
"Pete has made a tremendous contribution to the company during the four years since its creation," 7digital Chairman Don Cruickshank said. "On behalf of the board, I would like to thank him for everything he has done, significantly in positioning the company within the music industry and securing the major music labels as both suppliers and customers. He leaves with our gratitude and very best wishes for his next move."
7digital recently announced the end of its ownership of Juke, which it let go in a settlement last week.