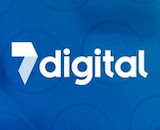 B2B music company 7digital has reached a settlement with German music service Juke that will end their partnership. The companies started collaborating in 2017 when 7digital acquired 24-7, Juke's parent company, from MediaMarktSaturn. 7digital assumed regular operations of Juke through that deal.
Under the settlement, 7digital received €4 million ($4.5 million) from Juke. It has also been released from all contracts and settlements related to Juke. The deal will also see the sale of MediaMarktSaturn's holdings in 7digital, which account for about 11.5% of the company's issued share capital. MediaMarktSaturn became 7digital's biggest individual shareholder following the 24-7 purchase.
"I am extremely pleased to put this period of uncertainty behind us," 7digital CEO Simon Cole said. "Whilst we would have preferred not to have been in this position, we are very satisfied with the settlement which represents the full value of all future financial commitments by Juke." Cole added that the cash injection would allow 7digital to restructureits overhead base. "We have had a good start elsewhere to the current financial year and will update shortly on our recent contract wins," he said.