Due partly to momentum stretching back years, and partly due to changed listening routines during the 2020 pandedmic, YouTube now serves 2-billion music users. This according to Mark Mulligan, head of MIDiA Research in the UK. (In a blog post Mulligan is simultaneously promoting his company's third edition of State of the YouTube Music Economy study, but that release date is independent of YouTube's milestone.)
"Lockdown has proven to be a growth driver of epic proportions." –Mark Mulligan
For perspective on the rapidity of growth, consider that YouTube's number of music listeners at the end of last year was 1.2-billion. During this time, and for years previous, music creators have been at odds with YouTube over rights payments, which musicians and music owners think should be higher from the global distribution powerhouse.
Mulligan notes, interestingly, that music commercially underperforms other types of content on the platform. He notes this: "Music videos are not as well suited to YouTube's monetisation mechanics as genres such as games." They are short, for one thing, and Mulligan also has observed in the past that label channels do not upload a constant flood of content to build more substantial audience engagement and revenue.
"YouTube continues to dominate the global music streaming market." –Mark Mulligan
As illustrated in the chart below, YouTube music ad revenue lags behind the growth of overall YouTube moneymaking: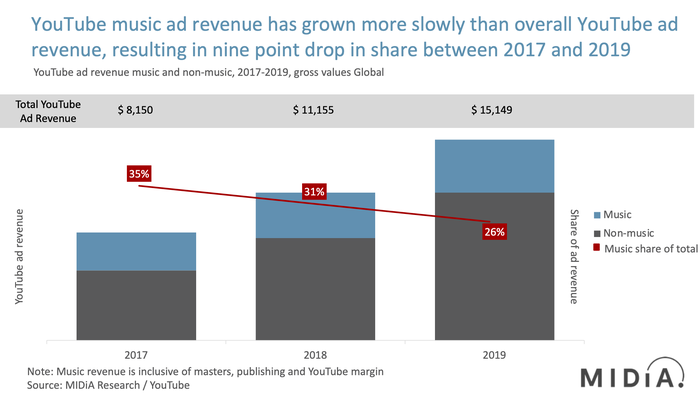 That said, Google as a whole (YouTube plus the company's soon-shuttered Google Play Music) is the second-largest global payer of music royalties. In 2019, the unit generated $15.2-billion in ad revenue, of which $4-billion was music related. Mark Mulligan notes: "Currently, YouTube is becoming more important to music than music is to YouTube."
.