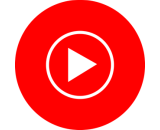 Google is making another step toward consolidating its sprawling on-demand music app ecosystem. The YouTube Music app will come pre-installed as the official music app on Android 10 smartphones. It replaces Google Play Music, which the tech company has been gradually phasing out.
This is the latest step in a meandering path for Google in the streaming audio era. The company has made multiple attempts to relaunch and rebrand its music properties over the last several years, but it has continued to struggle with getting traction for a mainstream audio subscription platform. YouTube remains a juggernaut in online music, but the impact of its paid options is still unclear. Both Google and YouTube have been reticent to share many figures about subscriber numbers. It's likely that having both YouTube- and Google-branded music apps have been dividing the user base, which could explain why more resources are going toward the YouTube camp and fewer toward Google.
YouTube Music and YouTube Music Premium launched in their current iteration in May 2018. However, the platform is still receiving feature updates that most of its competitors have long held as standard. Most recently, it got a personalized discovery playlist.