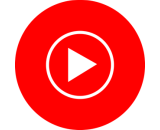 YouTube is still updating its on-demand streaming platform to have the same feature sets as its more established competitors. The latest new feature at YouTube Music is a playlist called Discover Mix, a selection of songs that is updated every Wednesday with songs that are tailored to the individual's tastes.
9to5Google noted that the playlist has 49 songs and has programming focused on "evergreen tunes and artists that you might not have heard before." The playlist has been observed by multiple people on Reddit and in other online forums, but does not appear to have received a complete rollout yet.
This playlist is a close analogue of the Discover Weekly playlist that has become a hallmark of Spotify's personalization tools. YouTube also released a weekly personalized playlist highlighting new music, echoing similar features from both Spotify and Apple Music.