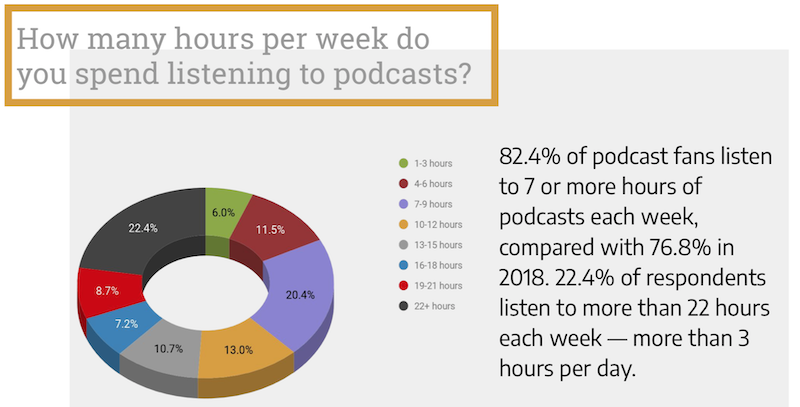 Discover Pods released a specialty report based on a survey of highly engaged podcast listeners, charting the consumption behavior of enthusiastic listeners. In the company's third annual analysis, which surveyed more than 1,000 podcast fans, the results showed that 82.4% of respondents listen to more than 7 hours of podcasts every week. That rate of high-volume listenership rose from 76.8% last year and 66.8% the year prior. It also saw growth in what the company dubbed "super-listeners," with 22.4% listening to more than 21 hours of podcasts each week. Almost half (48.4%) of the participants said they were listening to more podcasts than they did a year ago.
Podcast fans reported strong reactions to advertising in podcasts, with 86.5% listening to ads and 89.8% thinking the spots are effective. Within this survey's cohort of respondents, 55.6% said they had purchased an item after hearing it advertised on a podcast, up from 48.8% in 2018.
The report found that Apple Podcasts is still the leading mobile app for listening with a 38.2% share. Overcast took a 12.3% share and Pocket Casts had 11.7%. Spotify has secured a share of 9.1% as its relevance in podcasting grows, while Google Podcasts' share declined from 5% last year to just 2.2% in 2019.
Discovery remains a critical topic, with 72.8% of respondents calling it the biggest challenge for the industry today. More than three-quarters of the participants said they find new shows through cross promotion with other podcasts, and word-of-mouth recommendations took the second-largest share.
A third (33.2%) of the respondents said they had listened to podcasts on a smart speaker.