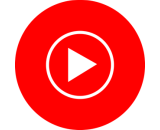 A few eagle-eyed listeners noticed that YouTube Music was gradually rolling out a discovery playlist at the end of September. That playlist was one of three that the video platform will officially launch later this month, the latest step to bring its offering more in line with the standard programming at rival streaming services. YouTube Chief Product Officer Neal Mohan announced the three playlists at TechCrunch Disrupt SF 2019.
Discover Mix offers music by artists the user may not know and tracks they haven't played by artists they already enjoy. The second new playlist is the New Release Mix, a selection of the most recent songs from favorite performers. Your Mix is the third, and it is a personalized selection of liked tracks and similar suggestions based on listening habits.
All three playlists will be updated weekly and will be available for all YouTube Music users in all markets.