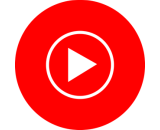 YouTube Music has been expanding its programming to keep pace with the offerings of other on-demand streaming platforms. Its latest additions are three personalized playlists for music discovery. These updates were initially announced in the fall. All three playlists are available now in all markets and on all platforms.
The playlists are the Discover Mix, the New Release Mix, and Your Mix. The final version of these collections is the same as what YouTube Chief Product Officer Neal Mohan introduced at TechCrunch Disrupt SF in October.
The Discover Mix will introduce listeners to new artists or lesser-known tracks from favorites. The 50-song playlist will be updated every Wednesday. The New Release Mix shares the most relevant tracks for a listener when they drop, with updates every Friday. The Your Mix is populated by tracks that the user already knows and enjoys. Rather than having a set weekly schedule, "small updates are made regularly" to keep the programming fresh.