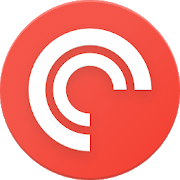 Pocket Casts, the podcast listening platform, has released the latest update to its Android app. Version 7.6 of the app brings a new tab format, letting listeners swipe between the Now Playing screen and a show's notes and chapters, if they're available. The toolbar can also be customized, so a listener can select the four actions they use the most for easier access. These actions include playback effects, sleep timer, mark as played, or archive episode.
The Up Next list has been moved to a separate page rather than being part of the Now Playing screen. Access this menu by swiping up or tapping the queue counter. It also gives the total time it would take to listen through all the episodes left. There is a "Clear Queue" button to delete everything in the queue and start over. The queue has also been updated with multi-select, so a listener can take an action on more than one episode at a time.
The final change in this update is a new indigo color scheme.
The iOS version of Pocket Casts will get the same new features soon.