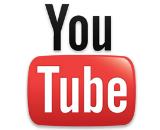 YouTube has paid out more than $1 billion to the music industry from advertising in the past year. Robert Kyncl, the video platform's chief business officer, penned a blog post about the state of YouTube's ad revenue.
"As more advertising dollars shift from TV, radio and print to online services, the music industry will generate even more revenue from ads," Kyncl wrote. "In the future, the music business has an opportunity to look a lot like television, where subscriptions and advertising contribute roughly equal amounts of revenue, bolstered by digital and physical sales."
YouTube remains a lightning rod for criticism regarding its role in the music business. Labels and artists alike have been increasingly vocal about what they've dubbed a "value gap." This means that they see a disparity between how much YouTube pays into the existing music industry systems in comparison to how many viewers and viewing hours it has.
The company has made some moves to change its revenue sources. It launched YouTube Red, a joint video and music subscription, in October 2015. The latest report claimed that the program has only pulled in 1.5 million subscribers. But advertising still seems to be a bigger slice of the YouTube pie, and that remains contentious. Expect this to be an ongoing story into 2017.