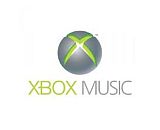 Microsoft has renamed its Xbox Music service to Groove. The previous name had caused confusion among potential listeners, many of whom thought that the service required an Xbox game console. "Groove" is a more accessible name for listeners who don't have the gaming hardware. But the rebrand also seems to be part of a broader effort to update Microsoft's entertainment offerings to keep pace with existing services.
The feature list for Groove doesn't appear too different than Xbox Music, including custom radio stations and playlists, and an integration with Microsoft's OneDrive cloud storage. However, there are still some questions. Microsoft has introduced the rebranded version of the music service along with its updates happening in Windows 10. At this point, though, it's unclear how closely the app will be tied to the operating system.
Last year, it seemed uncertain whether Microsoft would even retain the music platform as the company sold off some of its assets in music and video. Now, with the combination of streaming and MP3 music in one platform, it appears that the rebranded service could be getting positioned to better compete with Apple Music or Google Music All Access. The more neutral name could potentially attract more customers to Groove, but we'll have to wait and see whether a rebrand is enough to help Microsoft increase its market share.