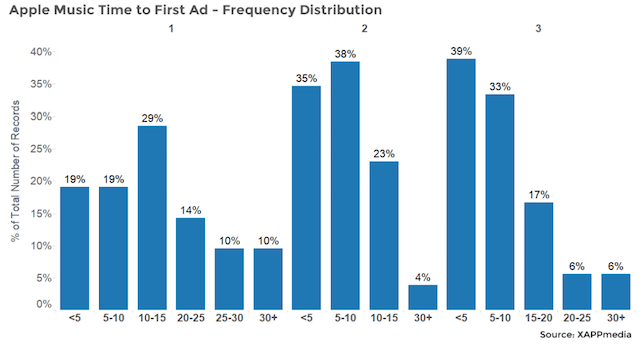 XAPPmedia published a special new report about Apple as a supplement to its usual quarterly ad load data. This focused study, which is the first from XAPPmedia to address a service by name, covers all of 2015 through August. Apple's ad-supported streaming music property at the start of the year was iTunes Radio, which was then folded into Apple Music when it launched on June 30.
In the first quarter, prior to Apple Music's launch, the company's ad load was 1:17. The second quarter saw a leap up to 2:25 once the streaming service joined the party, and so far the third quarter is about even with load of 2:29. The average ad load for the industry was 2:32 in the second quarter, so Apple is holding close to the standard. Apple was also in line with industry averages for ad units per hour, posting 5.31 in Q2 and 5.39 so far in Q3.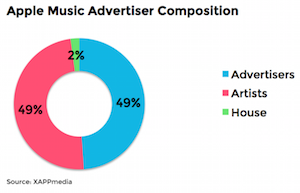 While those stats show Apple as close to the industry average, XAPPmedia found several places where it sharply diverged. The time-to-first-ad has been decreasing each quarter, with 39% hearing a spot within the first five minutes in the third quarter. The average TTFA for Apple is 10.3 minutes for this quarter, while the industry average is 13.9 minutes.
About half of Apple's ads are promotions for artist albums. It does also have spots from the big names, and in fact has no local advertisers. Beats 1 has a combination approach, with a mix of 30-second spots and verbal discussions of sponsorship from the DJs. The identified sponsors for the online radio project include American Express, Beats by Dre, Candy Crush Soda Saga, and McDonalds.
Download the report here.