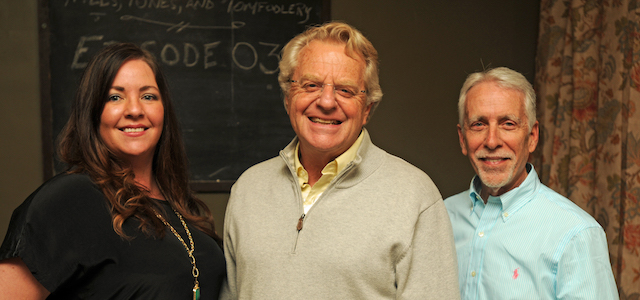 ---
"What exactly is a podcast?" –Jerry Springer, Episode #1, "Tales, Tunes & Tomfoolery"
Famed television talk show host Jerry Springer is among the celebrities who have jumped on the podcasting bandwagon. His weekly show – Tales, Tunes & Tomfoolery – is now on Westwood One's podcast and on-demand platform via audioBoom. Westwood One will be providing exclusive ad sales representation for the show; it will offer endorsements, live reads, pre-roll, mid-roll, and post-roll options to advertisers.
The program is recorded live every Tuesday night, and features Springer in discussion with Jene Galvin and Megan Hils. The trio delves into comedy, politics, and roots music. Springer serenades the listeners with "Goodnight, Irene," at the end of each episode.
"Jerry Springer is more than just a talk show host," said Suzanne Grimes, Westwood One's president and EVP of corporate marketing for Cumulus Media. "He's a multi-media maven who knows how to parlay his expertise with people and politics into content that is eagerly devoured by fans and consumers. His entry into the podcast world is our good fortune and we are excited to bring this smart, funny, engaging podcast to our listeners."
In addition to his well-known tenure as the host of a high-drama talk show, Springer has also had a notable career in politics. He served as the mayor of Cincinnati, a lawyer, and a political pundit. He is an Emmy-award winning newscaster and a country music recording artist.
"I hope we can make people laugh, encourage them to think about some important American issues, and introduce them to some of the best up-and-coming roots music writers and performers in the country," Springer said of the podcast.