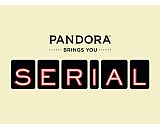 Warner Bros. and Esurance will sponsor Pandora's presentation of the first and second seasons of hit podcast 
Serial
, according to
AdWeek
. Earlier this month Pandora announced that it had agreed to be the "exclusive streaming partner" for a rerun of 
Serial
's first season, and the release of season two.
The first season will be made available on Pandora starting
Tuesday
, and there is not yet a start date for the second season. Warner Bros. is sponsoring the first season and the front half of the second; Esurance will sponsor the second half of season two.
The ad structure for Serial will be a clear callback to its original podcast format. The beginning and end of each episode will have ads akin to those on public radio. (Serial is an Internet-only show, but was created by public-radio program This American Life, and has benefited from radio promotion.) There will also be a visual ad component, with a persistent display for the duration of the stream. Each episode of the podcast will be broken into five-minute chapters in order to better match the snackability of Pandora's core offering, but the full content will be available on demand via the streaming platform. Mimicking the usual podcast advertising will keep the Pandora experience similar to those Serial listeners who opt to listen on other podcast apps.
Reps from both sponsoring companies were enthusiastic about this podcast-on-Pandora opportunity. The Warner Bros. spots will promote "In the Heart of the Sea," a new feature film by Ron Howard. "Because Ron Howard is one of America's greatest storytellers and because Serial is all about traditional storytelling but in this unique format and platform, we thought it would be the perfect, organic marriage," Warner Bros. Pictures EVP of Marketing Blair Rich said.
Esurance's leadership was also optimistic about this streaming/podcast hybrid. "This was a really neat opportunity for us to expand into podcasting with a partner that we have a relationship with and have seen success with in the past," Cyndie Beckwith, VP of Marketing at Esurance, told Adweek. "The traditional podcast companies, unlike Pandora, lack deep measurement."