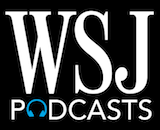 The Wall Street Journal has hopped on the podcasting bandwagon. The publication launched WSJ Podcasts, a suite of 12 shows covering topics in news, tech, and finance. The Panoply podcast network is partnering with WSJ for distribution, and the podcasts will be available on iTunes, Stitcher, Deezer, and SoundCloud.
The audio format is also creating a new space for brands looking to advertise on WSJ. "Through WSJ Podcasts, advertisers can develop an even deeper relationship with our ambitious audience; the world's most important decision makers," Trevor Fellows, the company's global head of advertising, said.
Several legacy print media companies have been experimenting with podcasts and audio content. Esquire and The New Yorker, for example, are both hosting shows to complement their written work.