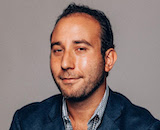 Vevo has upped JP Evangelista to the role of senior vice president of content, programming and marketing. He will spearhead the company's strategy for official music video releases, original content creation, and other global programming efforts in this expanded role. Responsibilities will also include working with artists, managers, and labels to further nurture Vevo's relationship with the industry. Evangelista has been at Vevo since the music video platform's debut, and assumed a VP leadership role in 2016.
"I've worked with JP for some time now, and it's been a pleasure to watch him excel," Vevo CEO Alan Price said. "His reputation and relationships are second to none, and his strategic thinking has been invaluable to Vevo. Artist development is central to our mission and JP's passion for all things music sets us up for success in 2019 and beyond."
Vevo has had several changes of the guard lately. Erik Huggers departed as CEO at the close of 2017, and Price formally stepped into the chief exec spot in September 2018. Later that month, the company hired Bryon Schafer as senior vice president of research.