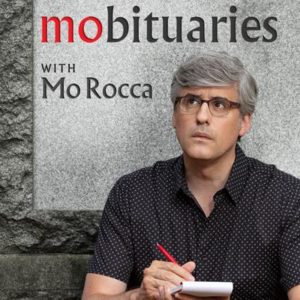 In a gleaming example of a podcast crossing over to another media category, radio/TV comedian and correspondent Mo Rocca is launching complementary products under a new Mobituaries brand.
The Mobituaries podcast drops January 17 with the first of an eight-episode first season. The podcast is a loving tribute to demised cultural artifacts and people, from station wagons to Audrey Hepburn. A Mobituaries book is in development as well — publication date November 2019, coinciding with the second podcast season.
"Why should it be only the rich and famous who get obits? With Mobituaries we're celebrating extraordinary people whose names you may not remember," Mo Rocca said. "Plus sitcom characters, historical epochs and even snack foods that have all bitten the dust. Oh, and we're also including rich and famous people because, come on, who doesn't love Audrey Hepburn?"
This project has obvious co-marketing potential, and the most interesting aspect might be that both sides of the Mobituaries content are new. In this way it differs from (for example) the No such Thing as a Fish podcast (a sharp and humorous British strange-facts hit) which has published a book which the hosts plug vociferously on each episode. Likewise, the U.S. political commentary show Pod Save America promotes spin-off books authored by its hosts. both of those podcasts produce live tours fairly often, which is another cross-category extension.
Crossing media boundaries is the overall trend. In some cases the podcast falls off the train when other opportunities, which the podcast created, mature. the highest-profile recent example is the curtailment of 2 Dope Queens (WNYC), one of the most famous podcast hits in recent years; it crossed over to HBO, and the hosts decided to end the audio show to concentrate on the HBO relationship. The Katie Couric Podcast likewise announced its end in December 13 episode; Couric will concentrate on other projects within her Katie Couric Media entity.
Back to Mo Rocca: The Mobituaries project seems well planned from the outset, and certainly well partnered. Note that CBS News regards podcasting with enough esteem to pin their brands on it as a linchpin.