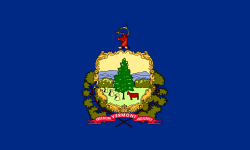 If you work for the state of Vermont, you're not listening to Pandora today, according to a report from NPR. Or Spotify. Or Slacker. Or Live365. Or iHeartRadio.
The state's technology management division has placed a block on those music sites and services to reduce bandwidth strain on the government's Internet system. The block affects only state workers logged into the system. Netflix is also on the blacklist, and you might argue that workers shouldn't be watching movies at their desks anyway — but Internet radio is different, and lawmakers are in a swirl about it.
According to the report, a more sophisticated blocking system will be implemented that will exempt the legislature from content blocking, while maintaining the Internet radio ban for other government workers.
The action was taken after the Vermont Department of Information and Innovation (basically the state's IT department) discovered that streaming media sites were soaking up seven percent of Internet bandwidth, "negatively affecting state applications," according to the department's director.